RAGLAN Sleeve, Ribbed V-neck Cardigan with CABLE FRONT BAND TRIMMING
in MAESTRO or CESARI (Col 35)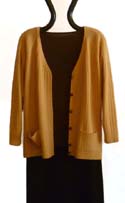 The Machine Knitting Pattern for this NEW DESIGN
is available in the regular version at £3.50 = Pattern M 75

As well as with techniques
at £6.50 = Pattern M 75 K T F.
All instructions with this Pattern M 75 K T F are supported with
diagrams and photos:-
1. For all needle positions and transfer of stitches for welts, for the
ribbed increases and decreases.
2. For Joining the raglan seam.
3. Working the buttonhole for the on the circular knitted
CABLE FRONT BAND - TRIMMING.
4. Attaching the front band at all the crucial points: The
beginning of welts, at the V-neck shaping and the raglan seam.
Step 4 - Attaching the front band at the raglan seam.


THE FINISH AT THE RAGLAN SEAM and FRONT BAND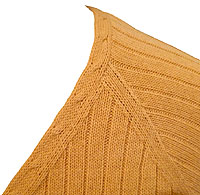 DESIGN 79 -SKIRT and STOLE in FINE ALPACA
Pattern M 79, in three sizes, includes the skirt and the stole £3.50
The Yarn for the skirt, a Fine Alpaca blend, is available as a KIT at £41.00 for all sizes (total 300g), plus postage
Standard cone of 200g will knit the stole - 1560 mm by 570 mm.
To order either please below
The PONCHO buttoned in front.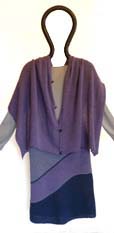 ASYMMETRIC CAPE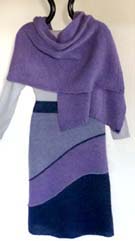 The STOLE placed around shoulders and buttoned at each sleeve.

LOOSE PONCHO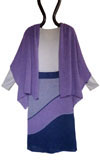 The skirt, shown here in three different colours, can of course also be knitted in one colour.
The Stole can be worn in a variety of styles and the pattern for the stole includes instructions for optional buttons and buttonholes.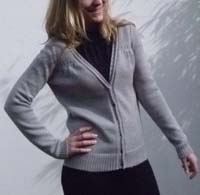 Stocking Stitch Cardigan with double layered front band and optional yoke lace detail. The buttonhole is worked through the Ribbed Band and the Rouleaux Stocking Stitch Band.
The Yarn: 350 [350, 400, 400] gram ROMA - Extra Fine Merino Wool wound double on to one cone.

The buttonhole
Step 2:
The Pattern: M 74
Includes step-by-step instructions for the double layered
front band, the buttonhole (see on right Step 2 for the buttonhole)
and the lace trimming. All instructions are supported with
photographs and diagrams for the precise needle positions.
The pattern is in four sizes - small [medium, large, extra large]
and at present only the machine knitting version is available.
Machine: Standard gauge machines including Passap/Pfaff and Singer.