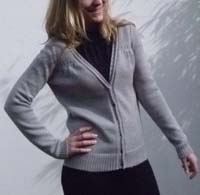 Stocking Stitch Cardigan with a charming and unique double layered front band. The buttonholes are worked through the Ribbed Band and the Rouleau Stocking Stitch Band.
The Yarn: 350 [350, 400, 400] gram ROMA - Extra Fine Merino Wool wound double on to one cone. SHOW CLOSE-UP OF FRONT BAND

The buttonhole
Step 2:
The Pattern: M 74
Includes step-by-step instructions for the double layered
front band, the buttonhole (see on right Step 2 for the buttonhole)
and the lace trimming. All instructions are supported with
photographs and diagrams for the precise needle positions.
The pattern is in four sizes - small [medium, large, extra large]
and at present only the machine knitting version is available.
Machine: Standard gauge machines including Passap/Pfaff and Singer.