ROMA 100% Extra Fine Merino Wool,
Nm Count 2/30, shrink resistant
The finest qualities of wool are obtained from sheep reared primarily for the fibre. Wool can be divided into three broad categories: 'Fine, Medium' and 'Coarse'. In the 'Fine' range the best qualities come from the Merino sheep, encompassing again many different qualities within that category, of which the Extra Fine Merino Wool is the worlds finest and softest.
'Medium' includes a wide range of wools between 'Fine' and 'Coarse' and used in a variety of knitting yarns and furnishing. 'Coarse' often comes from sheep bred with the emphasis on wool and meat, used to a large extends for furnishing and carpets.
ROMA is 100% Extra Fine Merino Wool.
It possesses excellent handle and perfect drape, being made of a unique fibre it is easy on the skin, breathable and anti-static, a joy knitting with and even more so wearing. Light and warm, its beauty can be realized in glamorous as well as comfort knits for both Machine and Hand Knitting.
Extra Fine Merino Wool is simply the best quality of Merino Wool. The count of 2/30 is one of the most versatile as it can be employed on a domestic standard gauge knitting machine as a single strand (Design 51) as well as up to six strands used together (Design 63) without loosing its shape, and in combination with different textured yarns. The most popular usage is double i.e. two strands wound together on one cone.
This exquisite yarn can be employed for all types of Machine and Hand Knitting as well as crochet, weaving and embroidery. It is perfect for Double Bed Machines either single or double.
There is no need to wash the tension square because the yarn is 'shrink resistant', simply steam press the tension square as well as the knitted garment pieces before assembling. The yarn is beautiful to work with; the carriage moves across the needle bed much easier than with any other wool or an acrylic. Most importantly, if a mistake is made, or you change your mind about size or design, it can easily be unravelled and re-knitted.
Due to the superior natural characteristics of this yarn all the colours are of exceptional beauty.
Using two strands together (double) is the most popular thickness with a tension choice of three to eight for standard gauge machines, for Hand Knitting needle size 2.75 to 4.5 mm, depending on the texture desired. Average requirement of ROMA for a jumper or cardigan is 350 to 400 gram already wound double, therefore the standard cone size supplied is 350 gram and 400 gram already wound double. ROMA is also supplied single on 200 gram standard cones or on request in any other weight or thickness.
Patterns:
Featured below are some of the patterns available for ROMA for Machine Knitting on a domestic standard gauge machine. For Hand Knitting a separate Hand Knitting Pattern is available for Designs 51, 55, 61, 63 and 65.
Care instructions:
Steam press the knitted garment pieces before sewing the seams. Steam press joined seams and finished garment.
After care: To remove food and everyday odour lay garment flat on a towel or use a suitably padded coat hanger for an hour or so preferably with open window. Being a wonderful natural yarn it does not need to be washed after each wear!
To store: Since food stains and body oils attract moths ensure that the garment is clean before packing it away. Lukewarm hand wash with a suitable detergent and slight steam pressing is recommended, or dry cleaning. To avoid 'bleeding' separate dark colours from light colours.
Col 102 SELECT

Col 54 SELECT
Col 149 SELECT
Col 112 SELECT

Col 113 SELECT

Col 221 SELECT

Col 08 SELECT
Col 144 SELECT

Col 119 SELECT
Col 142 SELECT

Col 111 SELECT
Col 137 SELECT
Col 118 SELECT

Col 02 SELECT
Col 26 SELECT

Col 150 SELECT

Col 215 SELECT

Col 155 SELECT

Col 17 SELECT
Col 172 SELECT

Col 126 SELECT

Col 43 SELECT

Col 59 SELECT

Col 03 SELECT

27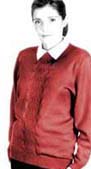 Current Designs in ROMA
Machine knitting patterns are available for all the above designs.
Hand knitting patterns are available for design 51, 53, 55, 61, 63, 65 and 74
CLICK ON DESIGN FOR FULL DETAILS
ROMA - 100% Extra Fine Merino Wool is supplied
already wound DOUBLE on to one cone (unless otherwise requested): -
350 gram cone at £23.90 each plus p & p;
400 gram cone at £26.90 each plus p & p;
wound SINGLE in units of 200 gram cones at £16.95 each plus p & p.
At present orders an be placed: -
By telephone with all major Credit Cards to Nina A Miklin on 020 8455 1996, outside UK 00 44 208455 1996.
By post to Nina A Miklin, P O Box 71930, London NW2 9QZ, enclosing a cheque.
By email to nina.miklin@virgin.net
<
For payment by PayPal please send an email to nina.miklin@virgin.net with details of the items you want to order stating: -
The Pattern number(s); the YARN quality, colour number and quantity; the Book number or title.
For orders we will forward you an invoice via PayPal. Upon receipt of payment we shall forward the goods immediately.
For more information on any item or confirmation of Yarn requirement for a particular garment, please do contact us. We will be happy to answer any questions and let you know the cost of each of the item you are interested in. You can then decide on your requirements. Upon receipt of your firm order we will send an invoice via PayPal.
POSTAGE for YARNS:
UK: - ONE to TWO cones £3.80; THREE to FOUR cones £8.00; FIVE to TEN cones £10.00. For Milan see Milan page
OUTSIDE UK: Postage at cost. After checking the exact cost we will sent you an invoice for it via PayPal.
POSTAGE for BOOKS:
UK: ONE Book £1.60; TWO books £2.50.
OUTSIDE UK: ONE Book £6.00; TWO books £8.00.
POSTAGE for PATTERNS:
UK: ONE Pattern 90p; TWO to THREE Patterns £1.60; FOUR or more Patterns FREE POSTAGE.
OUTSIDE UK: ONE Pattern £2.00; TWO Patterns £3.50; THREE or more Patterns £4.50 (maximum £4.50!).
All patterns are available at £3.50 each
with exception of
the following Machine Knitting Patterns which include step-by-step instructions:
M 61, M 62, M 63 M 207 and
M 72 at £5.50
and M 74 at £6.50.
Pattern M 75 is available in the standard version at £3.50
as well as with step-by-step instructions at £6.50
FOR FURTHER INFORMATION on any of the products please send an email to nina.miklin@virgin.net,
or telephone Nina on 020 8455 1996
or write to Nina Miklin, P O Box 71930, London NW2 9QZ
'

ROMA - Machine Washable