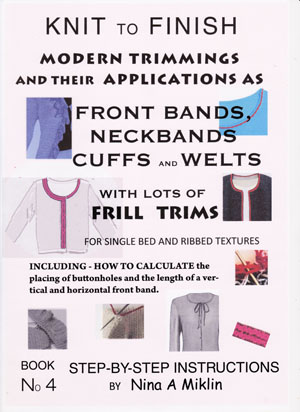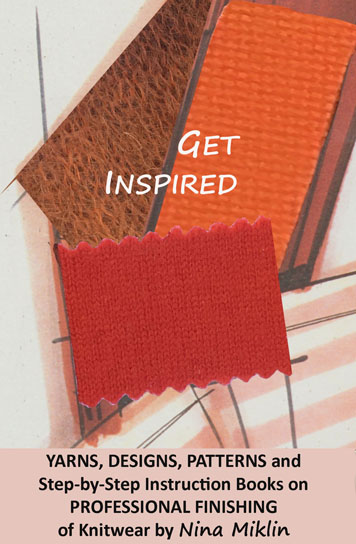 Postage for Special Offers outside UK: please let me know by email
nina.miklin@mail.com
the country and I will then quote you for the net cost.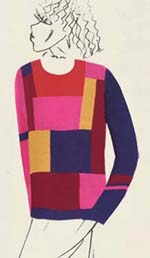 Design 223
SPECIAL KIT OFFER

for
Design 223
in the colours shown and quantities required

£55.00

including either pattern (with intarsia carriage or without!) as PDF email attachment
and UK postage.
This is a Special Offer because if ordering the yarn in the quantities required, based on the cost of a 50 gram cone, it would amount to £109.30 i.e. there would be 10 x 50 g cones.
A Design to lift the spirit of the wearer, make an entrance,
and receive very frequently compliments for the use/layout of colours. *
* I speak from experience as I am wearing it quite often.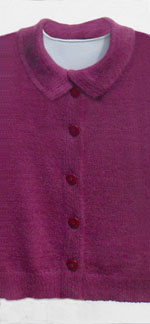 Pattern 207 KTF
SPECIAL KIT OFFER
For a 250 gram cone of Maestro or Cesari

(required to knit Design 205)

at the very special price of
£39.90

in the sample colour 149 or
MAESTRO colours 05, 15 and 42 or CESARI colours 03 and
70
inclusive PDF pattern M 205 and UK postage.

If you never knitted with our Cashmere/Wool blend this is an excellent opportunity to try it.

REGULAR price, based on the 50 gram unit price, would be
£55.00 for Maestro and £49.50 for Cesari plus £4.50 for the pattern plus postage.
For two 250 gram cones in the colours shown
£37.00 including pattern M 218 and UK postage.
Two standard size cones of ROMA would be £47.80 plus £3.50 for the pattern plus postage
SPECIAL KIT OFFER
Fair Isle updated with an elegant and modern styling - no ribbed welt or cuff that holds-in but a single-bed fold that is flat with perfect drape with the Fair Isle pattern extended over welt and cuff in line with modern knitwear.

To knit this jumper it requires a 250 gram cone of each colour.