A beautiful example of the superb quality of ROMA - 100% Extra Fine Merino Wool, worked here with single and double strands without loosing its shape
Stunning effects are achieved if worn over contrast coloured bodice
The Yarn: 200 gram ROMA - 100% Extra Fine Merino Wool SINGLE
The Pattern:
Both M 51 (machine knitting) and H 51 (hand knitting) are in four sizes. Knitted in stocking stitch with narrow stocking stitch trimmings.
Machine: Standard gauge machine without Ribber
Hand knitting: Needle size 3 to 4 mm
DESIGN 51
Gently fitting cardigan with femininity being the byword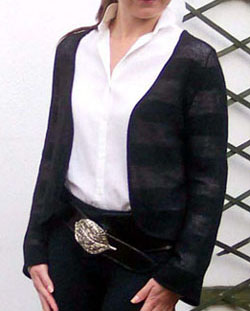 Pattern M 61, machine knitting, and H 61, hand knitting, is available at £3.50 each plus postage:
TO ORDER the pattern and/or yarn please see below.