ZADIG 40% Alpaca, 15% Virgin Wool, 20% Viscose, 25% Nylon, Nm Count 1/15 000
At present orders an be placed: -
By telephone with all major Credit Cards to Nina A Miklin on 020 8740 3599, outside UK 00 44 208740 3599.
By post to Nina A Miklin, P O Boc 32503, London W3 8GD, enclosing a cheque.
By email to nina.miklin@virgin.net
<
For payment by PayPal please send an email to nina.miklin@virgin.net with details of the items you want to order stating: -
The Pattern number(s); the YARN quality, colour number and quantity; the Book number or title.
For orders we will forward you an invoice via PayPal. Upon receipt of payment we shall forward the goods immediately.
For more information on any item or confirmation of Yarn requirement for a particular garment, please do contact us. We will be happy to answer any questions and let you know the cost of each of the item you are interested in. You can then decide on your requirements. Upon receipt of your firm order we will send an invoice via PayPal.
POSTAGE for YARNS:
UK: - ONE to TWO cones £5.20; THREE to FOUR cones £8.00; FIVE to TEN cones £10.00.
OUTSIDE UK: Postage at cost.
POSTAGE for BOOKS:
UK: ONE Book £1.60; TWO books £2.50.
OUTSIDE UK: ONE Book £3.50; TWO books £6.50.
POSTAGE for PATTERNS:
UK: ONE Pattern 90p; TWO to THREE Patterns £1.60; FOUR or more Patterns FREE POSTAGE.
OUTSIDE UK: ONE Pattern £2.00; TWO Patterns £3.50; THREE or more Patterns £4.50 (maximum £4.50!
FOR FURTHER INFORMATION on any of the products please send an email to nina.miklin@virgin.net,
or telephone Nina on 020 8740 3599, outside UK 00 44 208740 3599
or write to Nina Miklin, P O Box 32503, London W3 8GD.
ZADIG is a very fine soft Alpaca blend with a slight Mohair appearance.
It is a very versatile yarn and can be used single as for Design 71 or double as for Design 72 and 79. Machine Knitting Patterns are available for all the Designs featured below for Standard Gauge machines including Passap and Singer.
The tension for this yarn will depend on the preferred texture. For instance for Design 71 the yarn is used single and the Main Tension is 6. For Design 72 - the shawl collar cardigan, the yarn is used double on Tension 8. However for both, Design 79 - the skirt, and Design 79 B - the stole, the yarn is used double but the skirt is knitted on Tension 6 and the stole on Tension 8.
Col 42

Col 05
Col 01

ZADIG
is available on
200 g cones at £26.80 wound single or double
plus postage
NEW DESIGN - SKIRT and STOLE
Pattern M 79, in three sizes, includes the skirt and the stole £3.50
The Yarn for the skirt is available as a KIT at £41.00 for all sizes (total 300g), plus postage
Standard cone of 200g will knit the stole - 1560 mm by 570 mm.
To order either please below
The PONCHO buttoned in front.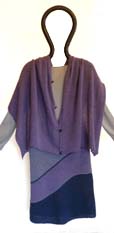 ASYMMETRIC CAPE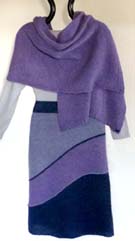 The STOLE placed around shoulders and buttoned at each sleeve.

LOOSE PONCHO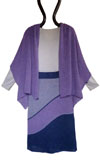 The skirt, shown here in three different colours, can of course also be knitted in one colour.
The Stole can be worn in a variety of styles and the pattern for the stole includes instructions for optional buttons and buttonholes.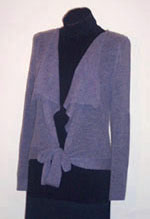 Design 71
Waterfall type collar.
Knitted in single Zadig.
The front tie can be replaced with a button, buttons can also be incorporated along the front up to the fold of the 'collar'.
200g SINGLE will knit this top.
Pattern £3.50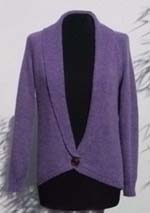 Design 72
Shawl collar smart jacket knitted in Zadig wound double.
The Pattern is available for Machine Knitting in four sizes; it includes step-by-step instructions for finishing the lower front.
250g (already supplied wound double) will knit this elegant jacket.
Pattern £5.50
PATTERN PRICES
All patterns are available at £3.50 each with exception of the following Machine Knitting Patterns which include also step-by-step instructions:
M 61, M 62, M 63 and M 72 at £5.50
M 74 at £6.50.
Pattern M 75 is available in the standard version at £3.50;
as well as with step-by-step techniques at £6.50 - Pattern M 75 KTF