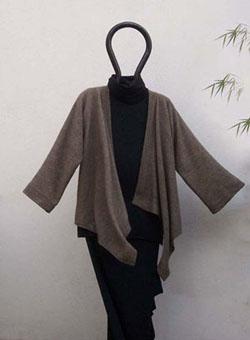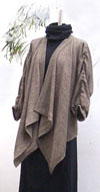 SLEEVE VARIATION

BACK VIEW
Pattern: Available for machine knitting, M 64 at £3.50, for hand knitting, H 64, at £3.50 plus postage
TO ORDER the pattern and/or yarn please see below.
Casual chic in stocking stitch
The Yarn: 450 g Alpaca/Wool blend.
This particular quality is now sold out, however with small adjustments it can be substituted with 650 gram ROMA - 100% Extra Fine Merino Wool treble (three strands wound together).
It can also be knitted in ZADIG the fine Alpaca Blend.
The garment is knitted throughout in stocking stitch -
approximately Tension 5 on a standard gauge machine and Needle size 2.75 mm to 3.75 for hand knitting.
The Pattern:
Both, Pattern M 64 (machine knitting) and H 64 (hand knitting),
is in four sizes - Small [medium, large, extra large].
The machine and hand knitting pattern includes the instructions for the straight and gathered sleeve variation as shown.